My Porting Applications
If there are any ports in progress, these will show under My Porting Applications, with the submission date, account name, document count and status.

To drill down and see the full history of a port, along with the number/s, carrier and account number that was submitted, click View.

Should any supporting documentation be requested, this can be attached to an in progress number port by clicking upload, then choose file and finding the file on your computer. Once the file has uploaded, click save to attach the file to the number port.

Submitting a Number Port

Before submitting a new number port, ensure you've read the porting checklist, which lists important information and FAQs on the porting process.
Once done, fill in the contact information and address information, exactly matching the details the current provider has on record. Note that PO Boxes can't be used when filling in this form.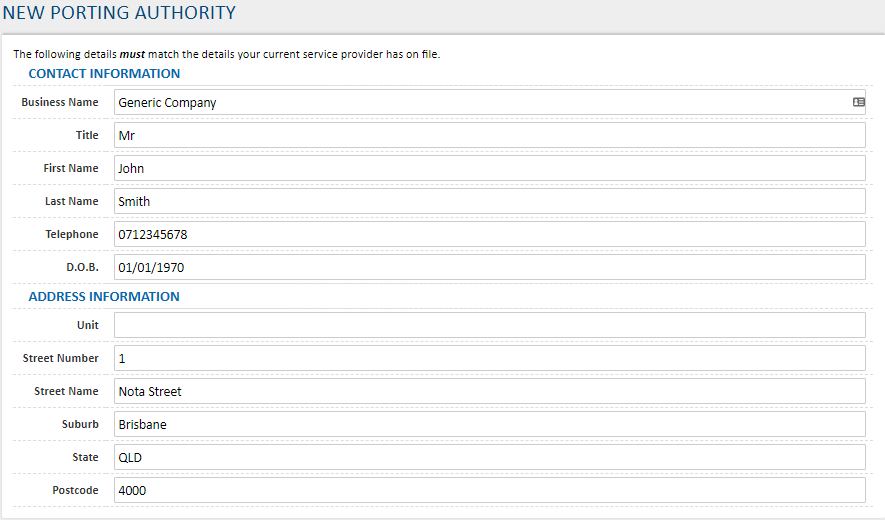 The Phone Numbers table provides fields to enter your port category, the amount of numbers in your range (if applicable), the phone number (or the start number, if porting a range), the current number carrier and the current carrier's account number.
To help determine if the port should be Cat A or Cat C, please refer to Number Porting FAQ - Category A or C
This example shows a simple (cat A) number port, along with a range of 10 numbers (cat C)

For each number being ported, you will need to verify ownership. For a Cat A number, this can be either by phone call verification or bill, or for Cat C, bill only. For more information on verification, see Number Porting FAQ - Verification Options
Carefully read and accept the porting terms and click submit port to initiate the number transfer. You will receive updates via email as the port progresses, and can return to the number porting page at any time to check on the port's progress.
Please refer to the Number Porting FAQ for timeframes and additional information.