A speed dial is a means to dial a full phone number or other destination using a short code. This is helpful for calling a colleague's mobile, or a supplier's contact center, without dialing the full number each time.
Adding a Speed Dial
To create a new speed dial, click the Add Speed Dial button.

In the Dial Number field, enter the short code that extensions can dial to place a call to the speed dial target, then provide the speed dial's Description.
Select the appropriate destination that callers will be connected to when entering the dial number. To enter a full phone number, select Type a number to Dial, then enter the phone number in the Number to Dial field. You can also set a speed dial to be an access code to join a queue, ring group, or other PBX destination.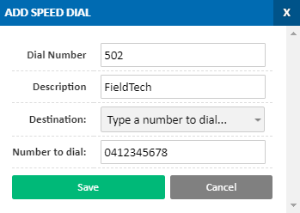 Once complete, click Save. Any extensions on the PBX can now call the Dial Number to be connected to the destination specified in the Speed Dial.
Editing or Removing a Speed Dial
All speed dials currently configured on the PBX are shown in the Configured Speed Dials list. To update the dial number, description or destination of a speed dial, click the Edit button.
To remove a speed dial, locate it in the list, then click the

button. Note that this action can't be undone, and the speed dial will need to be recreated if accidentally removed.
Locked Speed Dials
If a speed dial in the list has a lock icon, instead of an edit or delete button, that speed dial has been created using another PBX feature (for example, a page group). To edit locked speed dials, please go to the appropriate configuration section directly.