How much ServiceM8 costs depends on how many jobs you book in a month. The first 20 jobs every month are free, so if you do less than 20 jobs in a month you can use ServiceM8 without any limitation for free. From your 21st job onwards you pay a small amount per job, starting at 50c going down to 35c a job. That means if you make more than 50c on a job you can afford ServiceM8.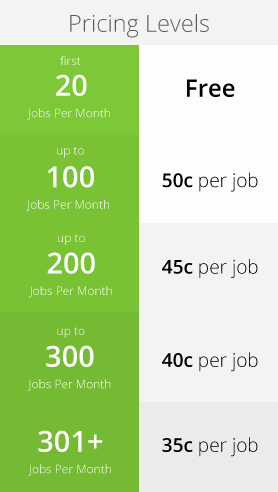 What counts as a job?
The easiest way to figure out if you will be charged for a job is by looking at the job number, you are charged one job fee per job number. This means you can schedule, invoice or quote a job as many times as you like and it will only incur one fee.
How much would I pay if I book 10 jobs a week?
$12 Including taxes a month - The first 20 jobs are free, so you will only pay for 24 jobs at 50c each.
How much would I pay if I booked 100 jobs in a calendar month?
$35 including taxes - The first 20 jobs are free, so you will only pay for 80 jobs at 45c each.
Can I prepay and receive a discount?
Yes, once you have a ServiceM8 account, you can pre-purchase job credit packs from within your account at a discounted rate.
Why charge per job instead of a fixed monthly fee?
We couldn't think of a better way to show our commitment to improving your business than to charge you based on success. There's no incentive for a fixed-fee provider to go the extra mile to assist you in completing more jobs. With ServiceM8, it's in our interest not only for you to succeed, but to grow - and with no contracts we re-win our customers on a monthly basis.
Do I need a credit card to sign up?
No, we want you to signup and get started as quick as possible, so we will not ask for your credit card until you go over 20 jobs in a single month. We accept Visa and MasterCard.