An address book is a list of contacts, which can be synchronised with Yealink handsets and cloud softphone to allow for dialling from the contacts on the handset.
In addition, if a party calls in that has a phone book entry, the incoming call can optionally be marked with their name.
To create or manage an address book, login to https://www.voipportal.com.au and select Hosted PBX and Address Book.
Adding or Managing an Address Book
Add a new address book by selecting the Add Address Book button, or manage an existing address book by clicking the Edit button in that address book's title bar. You will be presented with the address book options, which are detailed below: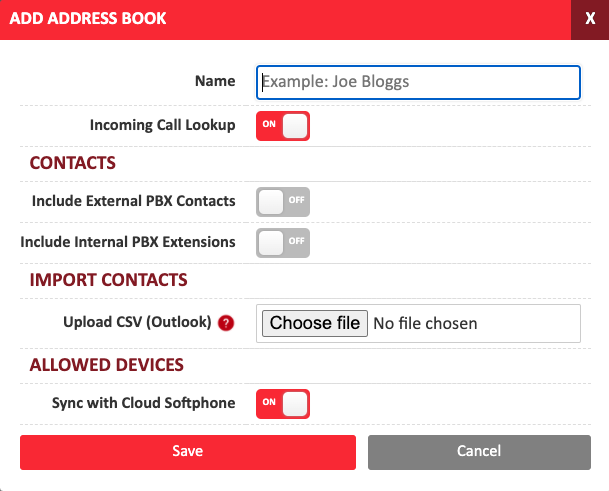 | Field | Description |
| --- | --- |
| Name | Specify a name for this address book |
| Incoming Call Lookup | If enabled, this address book will be used to lookup the name for incoming calls and, if a match is found, it will be presented to your phones |
| Include External PBX Contacts | Automatically include any external contacts added in Hosted PBX > External Numbers |
| Include Internal PBX Extensions | Automatically include a list of PBX extensions |
| Import CSV (Outlook) | This allows you to import a list of contacts from Microsoft Outlook. For instructions on exporting your Outlook contacts in the correct format, see Exporting Contacts From Outlook. If you do not use Outlook, you can instead manually create your CSV using this template: ContactExample.csv |
| Sync With Cloud Softphone | If enabled, any users on Cloud Softphone will be able to use this address book on the cloud softphone app |
Adding and Removing Contacts
To add a new contact to an address book, click the +Add Contact button

You'll be presented with the contact dialogue, to specify name, number, and number type (eg. Work, Home, etc.)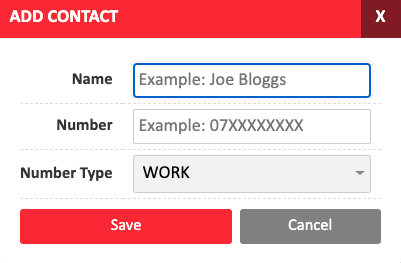 Once done, click Save.
To remove a contact, locate them in the address book contact list, then select the

to remove them. You can also update a contact's name or number by using the Edit button.
Using the Address Book With Your Handset
Each address book is assigned a unique URL which can be entered into your Yealink phone's configuration. This will synchronise the contact list on the phone with the address book on the server, adding the entries to the phone's directory.
For further information on configuring your handset, please see Yealink Address Book Setup