Caller ID (cid or clip), the number presented to the receiving party when making a call from your upstream VoIP service, can be set to any phone number on your account, or to any number that can be verified as being owned by you (this is sometimes referred to as overstamping).
Changing The Account Default
To set the default Caller ID for your account, select the account menu at the top right of the My Account Portal, then choose Account Options.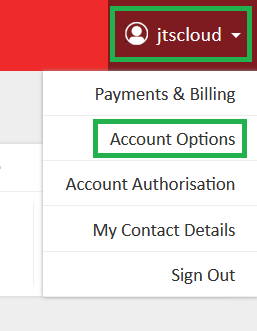 In the Default Caller ID field, select the phone number that should be shown on any outbound calls, for example the main office phone number. This will be the caller ID used on any extensions with the caller id set to 'Default' This can also be set to Anonymous, if desired.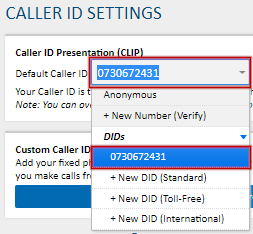 The caller ID presented by an extension can be changed from the account default by editing the SIP trunk or PBX extension, then selecting the desired caller ID from the Caller ID field.
You can set a custom caller ID of any number you own, even if it's not on your upstream account. To do see, please see Adding a Custom Caller ID