This page allows you to add external numbers, for example land lines or mobiles, for use in your upstream VoIP service. Once added, these can be configured as destinations for inbound routes and PBX elements, or added into ring groups and queues as agents.
To add a new external number, click the Add External Number button.

The Configured External Numbers list shows any numbers that have previously been configured on the account. This list also provides a quick view of the existing configuration options.
Updating or reconfiguring an existing external number can be done by locating the number in the Configured External Numbers list and clicking the Edit button.

Configure External Number
Enter a Description for the external number. This is used to identify the number when selecting it in other areas of the Portal.
In the Phone field, enter the external number, including the area code (eg. 0212345678)
Call Confirm, when enabled, will provide the recipient a voice prompt to accept, ignore or reject this call before it is connected to them. This is useful for ensuring calls do not end up in a mobile phone's voicemail, for example. For more information on call confirm, see Smart Call Confirm
Ring Time specifies the length of time the system should try and reach the external number before passing the call to the timeout destination. Most mobile phones have a ring time between 25 and 30 seconds.
Used in conjunction with call confirm and ring time, the Timeout Destination sets what will happen to a call when it reaches the maximum ring time or is rejected by call confirm. This can be to hang up, to a voicemail, to another handset or queue, etc.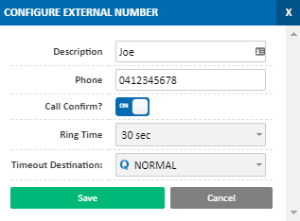 Removing an External Number
To delete a previously created external number, locate the number in the Configured External Extensions list, then click Remove

Using an External Number as a Mobile Divert
For instructions on setting up a mobile divert using an external number, please see Setting up a Mobile Divert