Purchase a new phone number
Additional local, premium (1300/1800) and international phone numbers can be ordered instantly by selecting the appropriate button for your desired number.
To add an Australian phone number (eg. 02, 03, 07 or 08, or 1300 and 1800 numbers), click Add a Number in either the local number or 1300 or 1800 number box.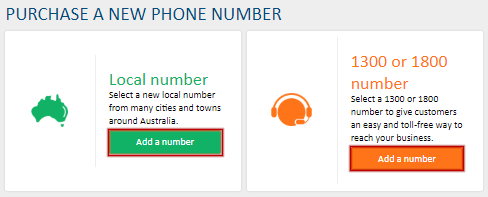 In the Location field, select the location you'd like a number for, or the type of number. From the presented list, select one or more of the presented individual numbers or number ranges.
The system will show you any applicable charges for your number selection. If you need to remove a number, you can either deselect it in the number list, or click the X in the charge summary table.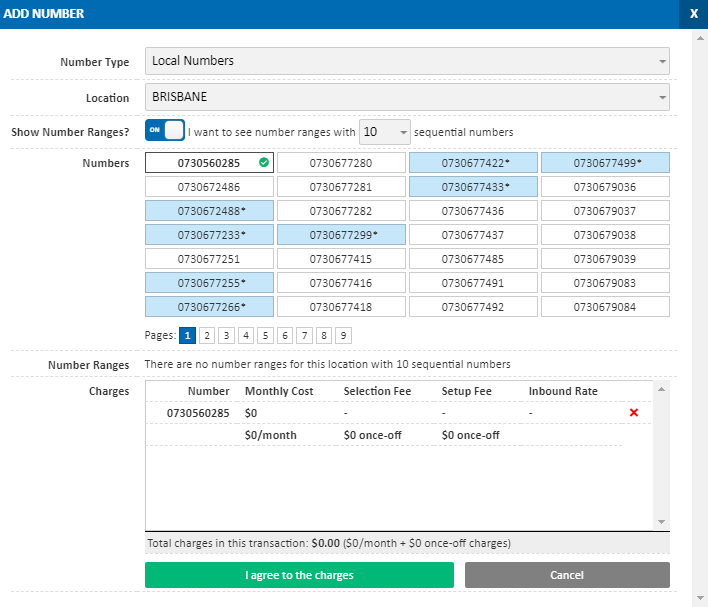 Once you're happy with the selection, click I agree to the charges and the number will be allocated to your account.
Editing an existing number
To edit a phone number already allocated and active, find the number in the Current DIDs list and click Edit

Route options
Once you've selected your desired number, select the destination calls to this number will be routed to. This may be an extension, a voicemail, a queue or IVR, etc.
If desired, set Main Number Callback to enabled.
Optionally, to prepend the caller ID of any calls to this number with a string, enter the string in the Caller ID Prefix field.
Select the location this number will be used in from the list of IPND addresses. If the address is not listed, choose + New IPND Address to add a new one. It is critical that this information is correct. For a detailed explanation of IPND, see What is IPND?
Finally, if this number should be listed in the white pages, select the appropriate address, otherwise choose No Listing
Purchase an International Number
To place an order for an international number, click Add a Number in the International DID box. Select your country, then if required, select the city the number should be provisioned in.
An order will be placed for this new number, and our team will keep you up to date with the status or any requests for further information.
Once the order is complete, this number will be allocated to your account and can be routed as any standard number.
Removing a number
If a number is no longer in use and should be removed from the account, locate the number in the Current DIDs list and click remove. Note that this action is permanent and in most cases a number can't be retrieved once removed.

IPND Addresses
IPND addresses lists each location you have a upstream VoIP service. If one of your addresses isn't listed, click + to create a new one. For more information on IPND, see What is IPND?