An address book is a list of contacts, which can be synchronised with Yealink handsets and cloud softphone to allow for dialling from the contacts on the handset.
In addition, if a party calls in that has a phone book entry, the incoming call can optionally be marked with their name.
To create or manage an address book, login to https://www.voipportal.com.au and select Hosted PBX and Address Book.
Adding or Managing an Address Book
Add a new address book by selecting the Add Address Book button, or manage an existing address book by clicking the Edit button in that address book's title bar. You will be presented with the address book options, which are detailed below: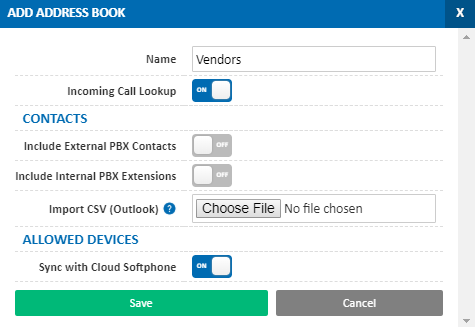 Adding and Removing Contacts
To add a new contact to an address book, click the +Add Contact button

You'll be presented with the contact dialogue, to specify name, number, and number type (eg. Work, Home, etc.)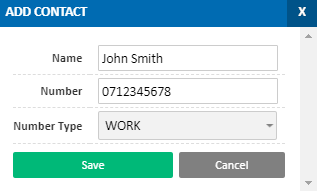 Once done, click Save.
To remove a contact, locate them in the address book contact list, then select the

to remove them. You can also update a contact's name or number by using the Edit button.
Using the Address Book With Your Handset
Automatic Provisioning
If your Yealink or Grandstream phones are managed through automatic provisioning, you can attach an address book to your profile which will be synchronised to your phone.
To attach the address book, choose PBX Extensions, then locate your phone and click the Keys button
Select Edit Profile Settings to access your profile configuration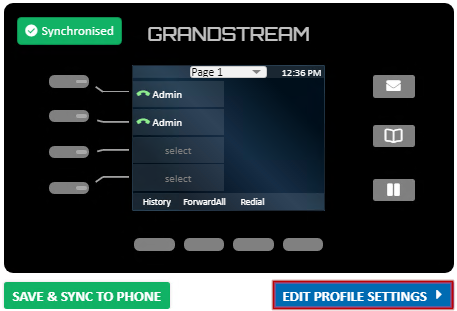 Select the desired address book in the Address Book field
Once selected, click Save and Save and Sync to Phone
Manual Configuration
Each address book is assigned a unique URL which can be entered into your Yealink phone's configuration. This will synchronise the contact list on the phone with the address book on the server, adding the entries to the phone's directory.
For further information on configuring your handset, please see Yealink Address Book Setup