Virtual fax allows you to send and receive faxes using your computer.
For information on sending faxes, please see: How to send a Virtual Fax - Email Client or Portal Guide - Virtual Fax
Creating a Fax Inbox
To add a new fax inbox, click the + New Fax Inbox button. For information on the options, please see below.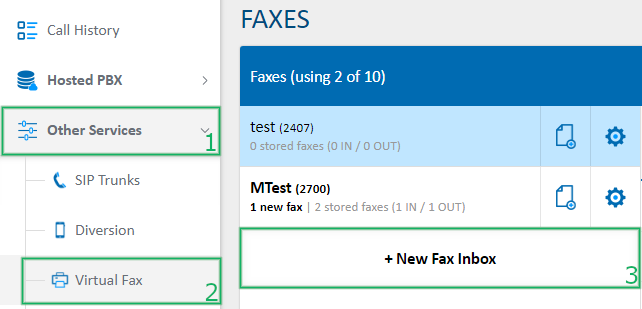 Configuring an Existing Fax Inbox
To configure a previously created fax inbox, locate the inbox you wish to change and click the Cog icon. For configuration options, see below.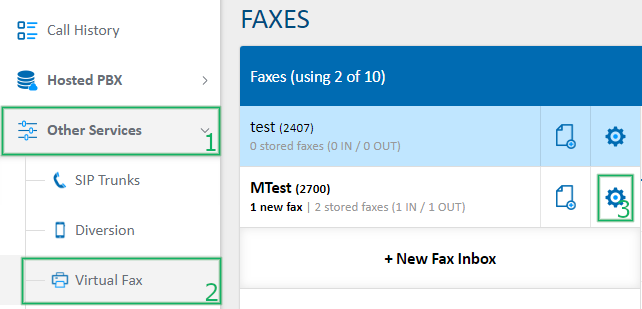 Fax Inbox Configuration Options
When creating or modifying a fax inbox, you'll be presented the following options.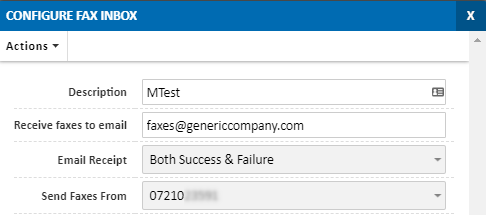 The Description field allows you to set a friendly name for this fax inbox.
Receive faxes to email allows you to have any faxes received to this fax inbox emailed, as a PDF, to an email address specified here.
Email Receipt will provide an email notification, when sending a fax, either when the fax sends successfully, fails, both, or none.
Send Faxes From sets the default outbound caller ID of the fax service, used when sending faxes.

To enable sending of outbound faxes from an email address, the email address first needs to be authorised on a fax inbox. Adding a new email address is done by clicking + Add Email. The system will send a verification email to the address entered.
Secure Email is an additional verification step, which checks your domain's SPF records to ensure the email is originating from a known service of yours. If the SPF record does not match, the request will be declined.
Previously authorised email addresses can be removed by clicking the

icon.